INTERNATIONAL CONGRESS
IInd EDITION
Chisinau, 11

-13th November

2020
Following a difficult analysis at the level of the organizing team, it was decided, with great regret, to postpone the Second Congress of SPNPPC "Mental Health in a world full of challenges", for June 24-26, 2021, in Chisinau.
We are grateful to those who accepted the invitation to join us and we hope to meet again in Chisinau next year.
For us, the Congress is more than a scientific event, it is an opportunity to mobilize and strengthen the community of professionals in the field of Mental Health.

We wish you health and good cheer!
Dearfully,
SPNPPC Organizing Committee
The topic of the coming edition of the Congress is MENTAL HEALTH IN A WORLD OF CHALLENGES and it encompasses the latest developments and the major issues in the field of mental health, in all their complexity, in our country and the wonderful experiences from abroad.
The Congress is meant for psychiatrists, residents, psychotherapists, narcologists, family doctors and general practitioners, clinical psychologists, researchers, managers and policy-making authorities.
The Congress will include interesting sessions for mental health professionals and for non-professionals. For the first time, pre-congress sessions will be held for residents and young specialists, as well as for clinical psychologists. The Congress will consist of a wide range of conferences, symposia and plenary sessions with participants from the Republic of Moldova and from other countries, on topics such as psychopharmacology, adult and child psychiatry, the phenomenon of mental health stigma, community services, addiction, psychotherapy and others.
SPNPCP has invited notorious personalities representing international associations, such as the European Psychiatric Association (EPA) and the World Psychiatric Association (WPA), researchers from Romania, Russia, Belarus, France, Switzerland, Italy, etc. who will have presentations at the congress and the event will hopefully arouse a high professional interest.
Access to the event will be based on the payment of the registration fee.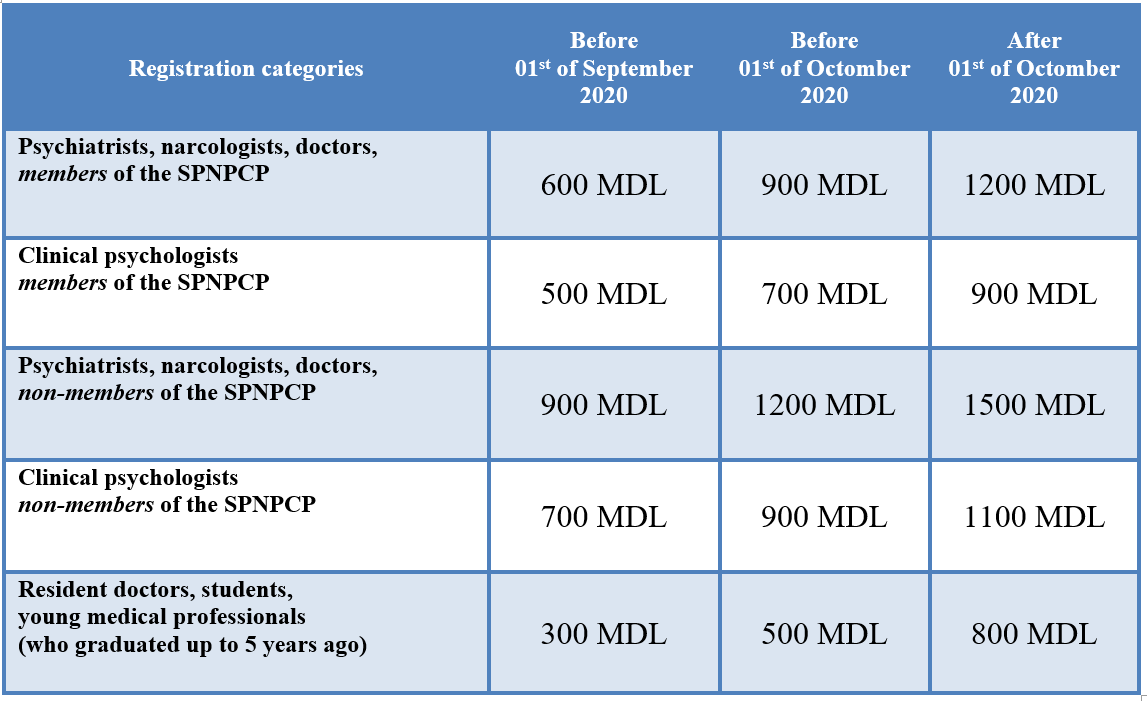 For the convenience of the participants, the organizers offer several payment methods:
1. By transfer to the account indicated below, with the subsequent shipment of the transfer order to the Society's e-mail address (This email address is being protected from spambots. You need JavaScript enabled to view it.)
2. Bank transfer by card via https://p2p.maib.md/en specifying:
Receiver's card number (any payment card): 5582 6300 6001 4288
Receiver's lastname and firstname: Chihai Jana
3. By direct payment: contact person - Alina Bologan (060205004)
.